NCSJ in Israel Pays Tribute to Former Refuseniks and Activists;
Honors Long-time NCSJ Leader Rabbi David Hill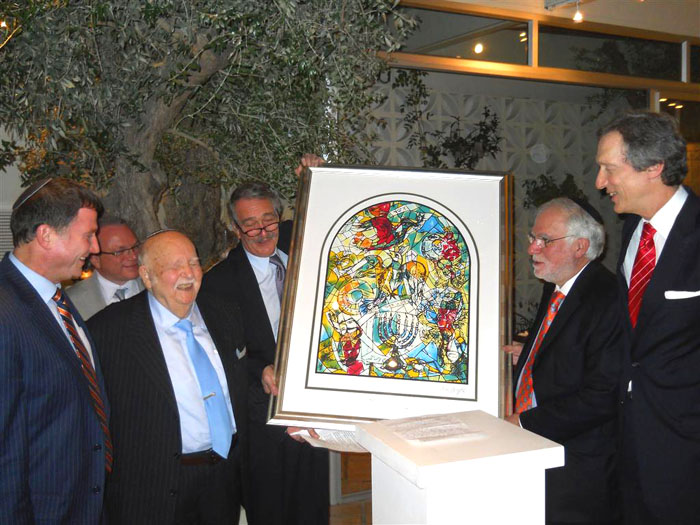 (l-r) Israeli Minister Yuli Edelstein; NCSJ President Alexander Smukler; Vice-President Rabbi David Hill;
former President Howard Sachs; Chairman Richard B. Stone; Executive Director Mark B. Levin
(photo by NCSJ)
JERUSALEM, Israel, December 9, 2011 - Last night, NCSJ (National Conference for Soviet Jewry) paid tribute to more than 100 Jewish former Soviet refuseniks at a reception.
In addition, NCSJ Vice-President Rabbi David Hill was honored for his devotion and commitment to freeing the Jews of the former Soviet Union. For many refuseniks and NCSJ activists attending, it was the first time they had seen each other in decades.
Minister of Public Affairs and the Diaspora Yuli Edelstein thanked NCSJ for its actions in helping to secure his own freedom, as well as the freedom of over a million Jews who now live in Israel.
Minister Edelstein paid special tribute to Rabbi Hill, noting the Rabbi's work to provide kosher food to Jews in the Soviet Union, at a time when it had not been available.
The minister also stressed the importance of NCSJ's current mission to combat anti-Semitism and securing the safety and well-being of Jews in the independent countries of the former Soviet Union.
NCSJ Chairman Richard Stone called the evening a tremendous success. "It was profoundly moving to see these refuseniks, whose freedom we had fought for, gathered together in celebration of NCSJ's work, and to honor Rabbi Hill."
NCSJ's leadership mission to Israel will conclude next week, after meeting with government officials including Prime Minister Benjamin Netanyahu, Deputy Minister of Foreign Affairs Danny Ayalon, media representatives, and Jewish community activists.