Interview with Mark Nashpits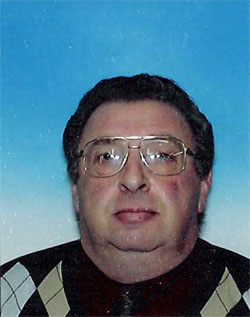 Mark Nashpits
Mark Nashpits was a prisoner of Zion from 1974 to 1979. He immigrated to Israel in 1985 and is currently living in Jerusalem.
He was interviewed by Aba Taratuta in October 2003.
Mark Nashpits: I was born in Moscow on March 27, 1948. I am giving the exact date because it's also my mother's birthday. My family were not religious people, but they were really Jewish (all the male children were circumcised). It was also a well off family. In 1946 my father was demobilized from the army with the rank of lieutenant –colonel of SMERSH [Death to Spies – an army unit for preventing information leakage - E.R.]. In 1953 Stalin died. Everyone wept; I clearly remember windows with drawn curtains. My father said "At last this bloody shoe-maker has kicked the bucket". My father was commercial director of the Sports Union and he was supposed to be promoted to director of the whole Luzhniki stadium compound. This stadium was a replica of a Danish stadium. In 1956 he was heading a delegation that was sent to Denmark, and he did not come back. He received Danish citizenship and later moved to Israel. He was sentenced to 25 years of imprisonment in absentia. We managed to keep in touch with him, but I always wrote that my father had died in any forms I had to fill in.
I was a good student at school and I was admitted to the Young Pioneers. The initiation ceremony was held at the Museum of Kalinin for good students; for the mediocre students it was held at the local Pioneer Palace. Last of all, there were only five of us who had not yet joined: four bottom pupils and myself, the only Jew in class. But I had to be admitted somehow, so they did it in the school Pioneer Room.
I had wondered and asked myself why I, a good student who collected scrap iron for recycling, had not been admitted. Another thing I remember is that when we were all assembled and Easter celebrations were being talked about, we were told that we must speak with our grandparents about Easter cakes and things of that sort. At that, I blurted out "We don't have Easter cakes, we have matzot. What shall I do?"
Aba Taratuta: But nevertheless, they let you go to school and join the Pioneers.
M.N.: Yes, but later mother transferred me to another school. Naturally, I never tried to join the Komsomol (Young Communist League). I entered the Moscow School of Dentistry; in 1970, graduated with good academic results and was referred for post-graduate studies. It had already been decided in what field I would do my research, but there was a catch I had not foreseen –which was that when you go to do postgraduate studies, all your personal details are thoroughly checked up on They called me to the Rector and said:
- Why are you cheating us? Your father's not dead; he was sentenced to 25 years of imprisonment in absentia. We are cancelling your placement and you will have to go to Voronezh Oblast.
I realized that my academic career in the USSR was finished. My mother and I talked it over and decided that we should go to Israel. We applied for exit visas in January 1971, on the same day that Pasha Abramovich did, by the way, and were refused without any explanations. I decided to fight for the right to leave the country. I knew that people were getting together in the synagogue. It was there that I got acquainted with Vitya Polsky, the Korenfelds and others. In 1972 Nixon visited Moscow for the first time, and we wrote a request to be received by his people. Fifteen of us, the young men, had got draft summons for the reserve service. Out of the fifteen only two were left: Shapiro and I. The rest hid in one way or another, but we were flatly refused. The reason was simple: I had no access to secret material, so it was clear that they were using me as revenge for my father. I knew that if I went into reserve service, I would probably get to see some prehistoric wooden guns there and then they would have the excuse to say: "You had access to secret information". The year was 1972. We got a year of imprisonment each. They released Shapiro later, but kept hold of me. However, I was later liberated under an amnesty (it was the 50th anniversary of the forming of the USSR).
A.T.: You did not sit in the lock-up?
M.N.: I did, but I was later pardoned and released. At that time a group of hongweibings (Red Guards in Chinese) was formed: Valera Krizhak, Misha Babel, Lyovka Kogan, with Sasha Lunts as the chief ideologist. We started going to places and holding demonstrations. In addition, my apartment became a press-centre. On Friday afternoons it was open to whoever was interested (including foreign reporters), and I would give a full account of the situation of Jews in the USSR. The apartment was bugged, of course.
One fine day I am detained in the street and taken to hotel "Berlin".
Colonel Kuznetsov (that was his name) takes out a file and says:
– There's enough stuff against you for Article 70. Here are the photos and other stuff.
I say to him:
- You called me for this, to scare me?
He says:
- We can't afford to let your father have the pleasure of seeing you, so you will leave only after his death. But we can make a deal with you: if you keep quiet for half a year and stop your activities, we will release you.
– Where's the guarantee?
– What guarantee do you want?
– Let my mother leave the country, she has a brother in Israel. You let my mother join her brother, and in six months I will go to my mother, and the problem with my father will be settled.
– We will think about it.
Three days after that they call my mother to the OVIR [Visas and Registration of Foreigners Office] and give her permission. I only told all this to Volodya Slepak and Lerner. I really did leave Moscow for six months: I went to the Baltic Republics and to the Caucasus. After half a year I came back. Two days after my return. the doorbell rings. Enters Vadim Fyodorovich, my Probation Officer. I knew that if V.F. pops in, it is a sign that they will put me in jail for fifteen days. After asking how I was and so on, he said:
– Maybe you could help us in some way.
– OK, you think what you need from me and I will think, too.
On the same day I organized a press-conference at home, because I realized that the mousetrap was set when they started blackmailing me. My principle was:' no discussion with these organs. They blackmail you, you take action'.
We held a demonstration on the stairs of the Lenin library. There were about fifteen of us but only two were detained, Borya Tsitlyonok and I, and each of us was sentenced to five years of exile. I was had as the organizer, and Borya was somehow hitched to me. They took me to Chita oblast, to the village of Tupik. (By the way, they released Sharansky). There was a trial, nothing interesting. It was a rubber-stamp matter at the Moscow City Court assizes. My prosecutor was Gusev, the one who had tried Pyotr Yakir and Victor Krasin. Over a period of six hours they had prepared the accusation statement and given the verdict of "guilty". At first, I was tried according to Article 70, then they switched to Article 190/1, then to 190/3 (unauthorised demonstration), but all the paragraphs of Article 190 allow the court to sentence you to up to three years of imprisonment, while I was sentenced to five years of exile. The court justified it by the fact that it was only exile and not a prison camp, so they sent me away. At first I managed to settle there quite comfortably as the epidemiologist's assistant, though there was no epidemiologist there. People visited me: Sharansky, Lunts, Yelistratov. I have pictures. Everything had been more or less normal before the Sharanky trial started. When his trial started, the KGB people took me to Chita as a witness. Even before that I had decided that I would never sign any official records. I had told as much to Prosecutor Gusev.
– Did you see "The 17 Moments of Spring"? What did your favorite secret-service agent Stirlitz say: "All the talks can only be held in neutral territory, in a hotel in Bern". The same applies here: I can talk with you about whatever you want but only there, not here. I stick to this rule: I'm not signing anything.
So for three days in Chita they had a hell of a time with me: "Sign this, sign that". Naturally, I signed nothing.
Then a new order was issued (minister Petrovsky was in office then): to deprive Zionists of the right to treat Soviet patients. I was discharged from the post of epidemiologist.
A.T.: Looks like Hippocrates agreed with comrade Petrovsky.
M.N.: Right, but I had to work somewhere, so they sent me to chop wood. Up to the last day of my exile I chopped wood. It was in exile that I got married. I was released in 1979 and had a warrant to get me to Moscow, but when I got there, they had changed everything. I was forbidden to settle in Moscow, Leningrad, republic capitals, sea resort towns and in the Moscow oblast. I got a residence permit in Strunino – it is in the Vladimir oblast, 97 km away from Moscow. Later, Begun and Ida Nudel were registered at my place. I got a job at a funeral office, making wreaths. At that time my father and mother started a full blast campaign to get me out of the country, and when Gorbachev visited France for the first time, Mitterand pleaded for two people: Ida Nudel and myself. For some reasons, Ida was refused, while I was allowed to leave.
It happened like this: One day I was away from Strunino. When I came back, I saw my neighbor, one Aunt Tanya:
– Hey, there were people from the White House to see you (there was the KGB office there).
I go to work to the Communal Management office and the manager meets me with:
– They are looking for you. I have orders to let them know when you arrive.
– Don't bother; I'll go there by myself.
I sat down on a bench and started thinking: It seems like there had been no funny business lately and so I went there.
– Where have you been? You have permission to go to Israel.
– So what am I to do?
– Go straight to Vladimir, to the OVIR.
I got there. No documents are needed, no certificate from work, here's my visa, and it says: leave within three days via Chop or Brest. I say to them:
– How can I make it in time?
– That's not our business, you have to find your own way.
I went to Moscow, to my wife and child, got to the Central OVIR and filed a request for an appointment because of the impossibility of leaving for Israel in such a short time.
The secretary tells me:
– Come back in a month's time but I'll show this paper to the boss first.
Five or seven minutes later she comes out and says:
– You can enter.
The boss says to me with a look of malice:
– What is it, Nashpits, you are all done?
I retort:
– After fifteen years of acquaintance I have come to bid you farewell, but I can't do it because I can't possibly get packed and leave in three days.
– So what do you want?
– Allow me to leave via Moscow.
– Will three days be enough?
– Yes.
– But you know that non-Moscow residents can only take 20 kilos of luggage if they leave through Moscow?
– No problem.
– What, you don't have any luggage?
I retorted:
– Tell me, can a Jew have any luggage after fifteen years of acquaintance with the KGB?
He laughed and said:
– I knew you would come. Go to Aeroflot, I've booked tickets for you.
In October 1985 we came to Israel. I had not seen my father for thirty years; I had not seen my mother since 1974 – for eleven years. In our family I was the first to start and the last to leave.
A.T.: Thank you.
Translated from Russian by Ilana Romanovsky.