Chana and Jacques Berlowitz
Active kindness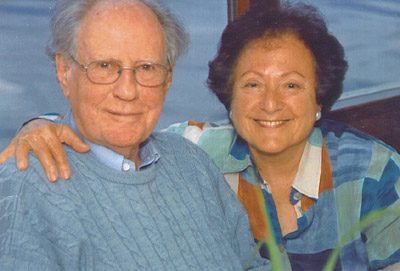 Chana and Jacques Berlowitz
During our many years of refusal and our first years in Israel we became very friendly with the people who supported us with all their hearts. Some of them became our friends, became part of our destiny. While communicating with them we understood two important things:
• the Jewish world really exists;
• active kindness is a part of this world.
Every representative of this Jewish world had his own motivation to go to the country behind the "Iron curtain". But the main aim was to tell the Soviet Jews: "We are with you, you are not forgotten!"
We remember this and are very grateful to those people. They were trying to break the iron curtain from outside; we were trying to achieve it with our persistent struggle from inside. And, thanks God, we are free!
We got acquainted with Chana near the Central Moscow synagogue in 1978. She arrived there from Zurich with Edith Guggenheim, her long-time friend. They came after having meeting with Ruth Bloch, also of Zurich, who had visited Moscow and Leningrad. Her stories about the life of the Soviet Jews impressed Chana and Edith. A little later Avital Sharansky was the Berlowitz family guest. Chana learned a lot about the situation of Jews in the Soviet Union.
Chana and Edith decided that they must see everything with their own eyes. They understood that their duty is to help the Soviet Jews to come and live in a free world, in Israel.
In May 1978 Chana's luggage was searched at the Leningrad airport and all the Bible books and the Hebrew language textbooks she was planning to give to the Soviet Jews, were taken away from her – even a Cookbook with Jewish Recipes was taken! Luckily, Edith's baggage was not inspected, and books and tapes she had with her arrived safely into the Soviet Union. On that trip they got acquainted with Jews who were eager to study Hebrew and Judaism and were doing it secretly, under the risk of repressions on the part of the government.
After her return home Chana started to unite people who were ready to struggle for the Soviet Jews' freedom.
We remember when on December 31, 1983 we returned home after a ski trip we saw unexpected guests in our little kitchen. Our son David was treating them with some tea. We were embarrassed but so happy to see them.
In 1987 Chana came to Moscow with Gila Blau who was a reporter for the Swiss Jewish Newspaper, and we visited a small museum of Jewish art that had been opened at a private apartment near Nikitsky Gates not long before this visit.
Chana was so busy working on behalf of the prisoners of Zion and refuseniks that her four children used to say that they would like to be Russian Jews so that their mother would make them a hot dinner and not feed them on tinned food… Later when the children grew up they joined their parents' activity.
In 1992 Chana and Jacques continued their voluntary work among Jewish youth in Belorussia.
And behold – we are free!
ב''ה (with God help – Hebrew)
At last, on December 1st, 1988, our family landed at the Ben Gurion airport in Israel. All night Chana with her son David were waiting for our arrival at the airport to welcome our first steps in the new motherland.
In August 1989 we were their guests in Zurich and visited them in Jerusalem many times. In 1999 Jacques and Chana were witnesses at our Chupah - the Jewish wedding ceremony.
In January 2008 Jacques passed away, we have lost a kind, clever, sympathetic friend with a great sense of humor.
During 20 years Jacques and Chana have struggled for the freedom of the Soviet Jews. Our deep, sincere friendship with Berlowitzes is 31 years old.
Yona and Nathan Shwartsman,
Lod, 2009.