Letter to My Mother
after My First Visit to Leningrad.
December 1973 (Part 1).
by Tamara Brill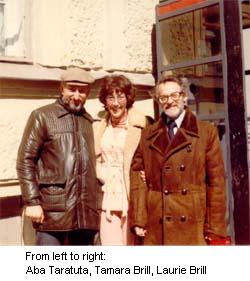 Dearest Mama,
As my 'phone bill is going to become wildly 'unpayable' due to regular 'phone calls to Leningrad, I thought it might be a good idea to write you a brief description of my " holiday" in the city of your birth.
"Incidents", in fact, started happening before we left English soil. At Gatwick airport, while we were waiting for our flight to be called, we sat opposite a fairly opulent and very middle-European looking gentleman. When our flight was called, he watched us reach for our bags and then told us that we ought to be ashamed of ourselves for going to Russia. His voice was heavily accented and so he presumably had authentic enough reasons for his opinions.
We were completely taken aback and were unable to defend ourselves ; all we could think of to say was a weak "We hope to achieve something by going." But it sounded totally unconvinced and unconvincing.
However, we were soon swept up in the excitement and the enormity of our journey and we managed to suppress our own guilt and ambivalence, for the most part!
So, on SUNDAY, December 16th. We arrived at Leningrad Airport at about 9.30 pm and got through customs quite easily. Some peoples' cases were opened and all foodstuffs confiscated, including one apple that Jean had. They scrutinized our London Sunday paper carefully but returned it to us. When my turn came, I asked in Russian whether I needed to open my case and was answered with " nje nado, nje nado" and I was through.
We were ushered into coaches and driven to the hotel while our Intourist guide gave us an introductory and very welcoming chat.
The Hotel Leningrad was very modern and seemed most luxurious to me. Jean and I had a twin-bedded room with every modern convenience and a wonderful vista of the Neva and the Aurora. After a quick, celebratory vodka we collapsed into bed having first asked the floor attendant to wake us at 8.30 am. (We'd lost three hours on arrival in Russia.)
On Monday, at 9 am. we were allocated seats, in a vast but pleasant restaurant, which we were to keep throughout our stay. Breakfast consisted of fruit juice, coffee, black and white breads, butter, slices of salami, jam, cheese or omelette. Everything was already on the table so that food meant to be hot was already cold.
10.am. We were all asked to congregate in an upstairs bar for a 'welcome party' at which we were served free wine or vodka and had the opportunity to get to know our guides and to book for tours. These were all very expensive. Jean, with her experience of last year in Moscow, had taken the trouble to find out what other things were on in Leningrad and we decided that Eugen Onegin at the Maly Theatre on our own would be preferable to Massenet's Werther at the Kirov with a hundred other English tourists! So we booked only for the two free tours, one of Leningrad and one of the Hermitage, and asked the guide where we could book for the things that interested us. "Downstairs in the ticket bureau – no problems." she assured us.
Downstairs in the ticket bureau there were problems. They refused, point blank, to sell us anything until the Thompson's representative or the Intourist guide had given the O.K. We eventually won but it was an odd experience. One is so used to straightforward dealings and trust at that level.
We spent the remainder of the morning getting our bearings in relation to the nearest Metro at Finland Station. We were followed for over an hour by a dogged youth, of approximately 16 years, who wanted chewing gum. We eventually gave him a cheap bar of chocolate and he vanished delightedly. We soon learned that if we didn't want to be accosted we should try and hide the fact that we were English – which, in the event, proved to be impossible!
At lunch we met the same phenomenon of cold food although it was plentiful and tasted good. We also began to notice that there were different tiers of tourists. Our food was simple but the delegation from Finland, in another part of the restaurant, had much better food, better presented and served. Equally, there were people not as highly ranked as English tourists who were getting less food with no service. Communism??
After lunch we took a coach trip round the city with the Intourist guide who gave us a running commentary, in perfect English, on the history of buildings, revolutionary events and some current information, such as that university education was free to all, with very cheap dormitory accommodation, and that, on graduation, each student is allocated a compulsory job anywhere in the country. Only after "serving" in this job for three years are they free to choose their own.
After dinner we went to collect our taxi, which we had ordered previously from a special lady whose job it seemed to be just to order taxis, to take us to a gipsy show at the Palace of Culture. Heavy snow was falling and there was a chronic shortage of taxis. I quite enjoyed hearing and actually understanding the 'phone calls to the taxi official by our taxi-ordering lady complaining about this.
We were eventually given a chit of paper with our taxi's registration number on it ( which had to be shown to the taxi driver to prove that we were his or he was ours, whichever way you care to look at it!) One other hopeful (Mongolian-looking) taxi-client and we stood outside in the snow with our respective chits. It was getting perilously late and our anxiety communicated itself to him. When the next taxi approached it was the one with his number on it. Before we realized what was happening, he grabbed our chit and gave us his. This truly restored our faith in the innate goodness of man!
The Palace of Culture proved to have been well within walking distance of the hotel but we'd been told that it was too far to walk!
It was a large building, a complex of halls used for several activities. Our hall was huge and totally functional, with no décor and with wooden fold up chairs. We quickly noticed that we were probably the only "foreigners" there. The place was packed with the sort of drab, working-type people one sees in every picture of a Russian crowd but they certainly looked happier than propaganda here would have us believe.
The show was terrific and apparently totally authentic with dancing, singing and comedy. The costumes were very colourful and the musicians were superb. The audience was so responsive that almost every item had to be encored, which made it a VERY long show!
At the end of the show we decided to lose ourselves in back street 'phone boxes… And this is where the real story begins. Jean had been given three 'phone numbers of Soviet Jews hoping for visas to emigrate to Israel. Her informant had been Colin Shindler of the Board of Deputies of British Jews. We tried several 'phone boxes, feeling scared, paranoid and very conspicuous, and finally got an answer from an Ida Taratuta who spoke excellent English. She seemed cool at first – until she realized that we were not 'phoning from England but were actually there, in Leningrad. We were immediately invited to visit, although it took her quite a while to convince us that there could be no danger to herself or to us in doing this.
Still not fully believing her, we arranged to meet at her local Metro station at 8 pm. the following evening. Jean and I walked, slid and waded our way through a circuitous back street route – and in an hysterically hypomanic mood – back to the hotel. It was approximately 1 am. and we didn't feel like sleeping so we allowed ourselves to be "picked up" in the hotel by a couple of Czech engineers from Prague who were part of a delegation attending a symposium and who were going back to Prague the next morning. We sat in the only bar still open, drank vodka and talked – German mainly with a smattering of Russian – for over two hours. They talked so freely that it was not until we looked back on the conversation that we realized that they had in fact told us nothing! (It's all right; neither had we!)
So, after about 4 hours' sleep we woke to Day 2 of our adventure….and what a day it was to be.
Tuesday, December 18th. In the morning we took a coach trip to the Hermitage and, during the guided tour, saw only a fraction of what it had to offer. Two and a half hours of unbelievable beauty and splendour. Just the Winter Palace alone, with none of its contents would have been too much to absorb and fully appreciate. The Hermitage including contents defies description and would require six months of daily visits, I should imagine. Jean and I managed to lose the conducted tour and so saw, I think, rather more than the rest of the party.
After lunch we did what we thought to be a very clever thing. Jean has a lecturer/colleague who is active in the Anglo-Soviet Peace Committee and had given her the name and address of the leading light of the movement in Leningrad. (The headquarters were in a fantastically restored nobleman's palace along the Fontanka). We visited, were greeted with overwhelming friendliness and hospitality – which all seemed genuine – and were talked at for an hour about the valuable work done voluntarily by the Friendship and Peace Committee. We were told of fund-raising missions carried out in every factory and organization and assured that any private citizens receiving financial rewards or stipends over and above their salaries voluntarily donated these to the peace movement.
There was a lot more along those lines and we were invited to a production in Russian that evening of "A Streetcar named Desire" which had been sanctioned by the approval of Tennessee Williams. We were also offered other organized activities, all of which we refused with an exaggerated show of reluctance. Names and addresses were exchanged, as were assurances of future meetings and everlasting friendship!
After supper the visit to Leningrad changed COMPLETELY.
We stumbled our way towards the Finland Station…the roads and pavements were very slippery and treacherous in places despite the constant sweeping, shoveling and snow-ploughing. There were even little babushka-type ladies, dressed in black and wearing headscarves, whose job seemed to be to spoon salt onto the tram lines. However, we finally reached our destination to be greeted by Ida Taratuta, her husband Aba and their 12 year old son Misha, who had obviously spent the whole day practising saying "Good evening. My name is Misha and I have a cat."
This produced one of the many 'lumps in the throat' that we were destined to feel during the rest of our stay.
They greeted us openly and warmly, taking our bags, linking arms with us and talking, with no attempt at discretion, in English. We had a walk and a bus ride to get to their home, which was in a soulless block of flats on a characterless estate, just as so many seem to be when you get outside of the center of Leningrad. Their flat consists of a small entrance hall, where we had to take off our boots and put on slippers, a living room about 10 feet by 8 feet, but with high ceilings, with a settee on which the adults sleep and another room, slightly smaller, which was Misha's room. There was also a small, somewhat primitive kitchen, a tiny bathroom and a separate lavatory. To us it seemed to be a reasonable sized flat for a newly married couple or retirees but claustrophobic for a couple with a child. They told us that they'd lived there since 1964, previously having all lived in one 11 foot square room with Ida's parents.
We talked – they with humour and we with ever-increasing horror – of their situation, which they assured us was in no way out of the ordinary for Jews wanting to emigrate to Israel. Aba, an astronomer and mathematician, was now working, one day in three, maintaining lifts ; Ida, a technical translator, was now doing clerical work in the Post Office. Their income has been halved and they live in ever-decreasing hope. They are in constant contact with the West by means of their radio as the BBC and the Voice of America is no longer being jammed. We could tell them nothing about world politics that they didn't already know, but so used were they to not believing what they read in their papers that they didn't believe Watergate! They were able to tell us, however, what I have since read in Colin Shindler's weekly bulletin, that a demonstration planned by 5 Leningrad Jews for Sunday, December 16th, had been scotched by the simple process of imprisoning 2 of them, hospitalizing one and sending one away from Leningrad, the plan having been discovered by mail censorship.
The Taratutas have already had one visa application refused and cannot apply again until next August. Refusals are almost invariably given because of so-called access to classified information. Ida's work as a technical translator falls into this category but, as she translated from English into Russian and her translations are readily available in all public libraries, the situation is palpably absurd.
Within 15 minutes of our arrival, 2 other couples who'd heard of our visit, joined us. The Lotvins were in the position of having applied but not having heard anything after 8 months, which is apparently a record. He, an engineer had obviously enjoyed a high standard of living previously, having owned a car, which is exceptional. He is now working in the same office but in a very lowly position. The car had been sold…"and now we are eating it." His wife is at present not working. She used to be a designer of electronic equipment and had taken up her last post (a "classified job") two weeks prior to the political thaw, some two or three years ago, which had made visa applications a possibility. The additional irony of their situation is that, with a son of 16 years old, if they don't get out before his military service in two years' time, they probably never will because in military service he will ostensibly have access to classified information.
It was they who told us of the character reference which is a prerequisite of all visa applications and that this is obtained by means of an open meeting of ALL the workers in the office, factory or organization in which one works, at which the applicant has to stand up and justify himself in the face of hostile cross-questioning and criticism. There are many people who cannot stand up to this.
The Khaikins are a couple with 3 children. Benjamin, the father, at 48 looks at least 10 years older and appeared to be the "patriarch" of the group. A maritime engineer who also became a patent attorney by studying in evening classes, he now works in a lowly clerical position in a patent office. Having originally come from Riga, he seems somehow to have learned Hebrew and has undertaken to teach the others. They cannot, of course, get any Hebrew text books. His wife works as a nurse in a Polyclinic and, outside of her home environment (we later visited their home too), seemed a quiet, sad, homely woman, unable to communicate as, apart from Russian, she spoke only Yiddish. She was wearing a Magen David.
Their children are Fira (20) who gave up her engineering studies at University with only one more year to do because on qualifying, she may have been drafted to working at a " classified " plant; she now does assembly line factory work. We didn't meet her – or the Lotvin's 16 year old son – but we met the other children the next day. Danya (16) is a highly intelligent boy whose English is excellent but who cannot make plans for his future until he knows where he'll be. His interests tend towards engineering and/or translating. Aya (10) is a delightful child who is learning French and tried very hard to converse with Jean in French. To me she spoke Russian – and I understood!
The Khaikins were one of the first Leningrad families to apply for a visa. They have been refused and are due to re-apply next year, which will make a total of 3 years since they made their decision to try and get to Israel.
The fantastic humour, courage and warmth of these people has to be seen, heard and experienced to be appreciated. We all sat round a table groaning with (very simple) food, drinking cheap Bulgarian wine and talking, laughing, questioning, answering and constantly translating from Russian to English to German to Yiddish and back again with ever-increasing momentum. It was well nigh impossible to believe that we had met only a couple of hours previously as we talked.
With 2 more days in Leningrad before us, we felt that we simply had to meet again. After lively discussion, we decided that Jean and I would bring some food to Ida's flat at 2 pm. the following day and as many of the party as were free would join us.
When we left, everyone came with us on the bus and to the Metro station, again uninhibitedly talking in English and again linking arms and showing such spontaneous warmth, interest and affection as I have rarely experienced. The Khaikins also had a metro journey ahead of them so they came with us, insisting on seeing us to our station before turning back to go in a different direction towards their home. On the train, Benjamin talked openly to me in German, despite the very interested-looking militia man sitting opposite us. He begged us to write to any official body we could think of to explain their plight and assured us that publicity was what they wanted. He felt that he'd sunk so low and suffered so much degradation and humiliation already that nothing worse could happen to him. This latter statement was palpably untrue but this seems to be the only attitude left to them in their fight for survival.
All three families, incidentally, are daily expecting to have their telephones cut off, as is happening to all the refuseniks all the time. Despite which, they are not making any efforts to moderate their use of their 'phones. Our leave-taking that night was emotional but we were secure in the knowledge that most of us would be meeting again the next day.
Wednesday. December 19th. After breakfast Jean and I decided that we would have a leisurely stroll round town, window shop with a view to assessing where we'd buy what on our last day and also, incidentally, buy what was needed for our lunch at Ida's. So we thought a tram ride, rather than the Metro, would be interesting for a change as the public transport system in Leningrad seems pretty comprehensive, with a detailed map available covering all Metro, bus, trolley and tram routes. We noted curious inconsistencies: - Metro trains are run so efficiently that our friends apologized more than once when we were kept waiting for more than 2 minutes for a train, which contrasted quaintly with the sight of old women, complete with shawl and headscarf and long skirts, spooning salt from a small tin along the lengths of tram lines in the roads.
As we waited for our tram (about the only time we felt the cold which averaged – 5 degrees centigrade during our stay) we were asked, in Russian, of course, by yet another of the ubiquitous little old women with lined faces, whether a certain bus followed a certain route I explained that we were strangers and thus didn't know. She asked where we were from and I answered "England" to which she commented wistfully "You have a better life than we do, don't you? " I hardly had time to nod to her before our tram came. It was a sad little encounter, especially when we stopped to think that it must have been she and many thousands like her who had had to suffer all the well-documented horrors and deprivations of the siege of Leningrad in the 1940's.
And now the difficulties of shopping in Leningrad were to be revealed to us! Apart from the one main shop on the Nevsky Prospekt – and, as we saw from the coach window on our way back to the airport the next day, - one or two modern department stores in outlying suburbs, there is no attempt at window dressing in the shops. Indeed, what windows there were were either too dirty or too steamed up to see through. There is only the bald neon-lit sign over assorted ground floor doorways stating "Fruit" or "Wine" or "Meat", very unfortunate if you can't read the Cyrillic alphabet! In very few shops is it possible to get more than one kind of item under one roof. There are even separate shops for neckties, baby food, materials etc. Often there are queues outside such shops before they open, especially if there has been a rumour of a delivery of some particular item from Poland or some such place in Eastern Europe.
It is certainly a misconception to look upon queueing as a British pastime. The Russians seem to do nothing else. In order to buy anything one queues at the counter to see what's available and what it costs; one then goes to a central cash desk and, after queueing yet again, announces what one wants to buy or how much one wants to spend. As a reward one gets a chit on which is written the sum of money handed over at the cash desk; one then returns to the original counter, complete with chit and queues again to get served. It certainly does nothing for one's blood pressure if one happens to be strapped for time as we were when we finally realized how long it all takes.
We had arranged to meet Ida at her Metro station at 1.30 pm. Fortunately we stumbled upon a sign that said "Kitchen shop" which we found sold various ready-prepared salads, cooked meat in dry, unappetizing-looking chunks and fish cakes. Here, amidst confusion and no mean show of ill-temper on all sides, we finally acquired a selection of meats and salads, all wrapped in pieces of rough paper twisted into cone shapes. In our haste, we stuffed these into a plastic carrier bag, which we'd brought with us. (At no time did we see any plastic, silver foil or cellotape, but we spent so little time in shops that we can't state definitely that these do not exist in Leningrad.)
A crazy Metro ride followed our "shopping" expedition. I suddenly noticed that my plastic carrier was leaking and wetting the carriage floor with pickled gherkin juice. Jean, sitting opposite me, laughed hysterically while I dipped into the bag and brought out sodden paper cone after sodden paper cone. By a wild fluke of luck I happened to have a couple of small plastic bags in my hold-all and these saved the day Our laughter dried up rather suddenly when we saw that everyone in our compartment was averting their eyes with not a friendly or sympathetic smile anywhere. That struck us as odd because, on the whole, we had found everyone to be most friendly and helpful. Perhaps it is a punishable offence to misbehave in the metro. If a Jew can be imprisoned for "jostling" someone in the street that does not seem so far fetched a supposition.